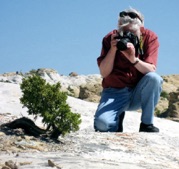 I'm not a city guy.  I grew up in the country.  I worked on farms and learned to drive a tractor when I was eleven, the same year I shot my first pheasant and got my first camera, a Baby Brownie Special.  Crippen School, where I spent the 8th grade let us bring our shotguns so we could hunt during lunch hour.  I went to high school just often enough to keep my athletic eligibility, and still managed to get into college somehow.  I joined the Air Force and played in a band. I worked in a muffler factory and managed a Shakespeare Festival.  I taught in a college, directed a gazillion plays, and won a ton of awards for films and videos.

I'm not a city guy, but cities are interesting to me.  I like to visit, check out the theaters and galleries, and make photographs.  But to tell the truth, when I photograph, the geography or the subject, aren't actually all that important.  They're  just a pretext for creating an image.

PS:  I think I could still milk a cow.